The best golf shoes for walking are a comfortable golf shoe on the course, range and even off the course.
They should be comfortable, durable, flexible, breathable, lightweight, have good traction, fit well, and look great.
Here's my top 9 picks.
1. Nike Air Zoom Direct Golf Shoes
This is a fantastic pair of shoes I purchased 2 years ago.
They kept the rain out in wet conditions, breathe well but unfortunately they were half a size too small.
The Nike Air Zoom Direct Golf Shoe is a great shoe to wear on the course.
It has an excellent fit and feel, as well as being lightweight and comfortable.
The sole of this shoe provides good traction in all types of weather conditions.
This shoe also features a breathable mesh upper that allows air flow through your foot while you walk.
The cushioning system inside these shoes helps absorb shock from each step so it will not be felt by your feet when walking around the greens.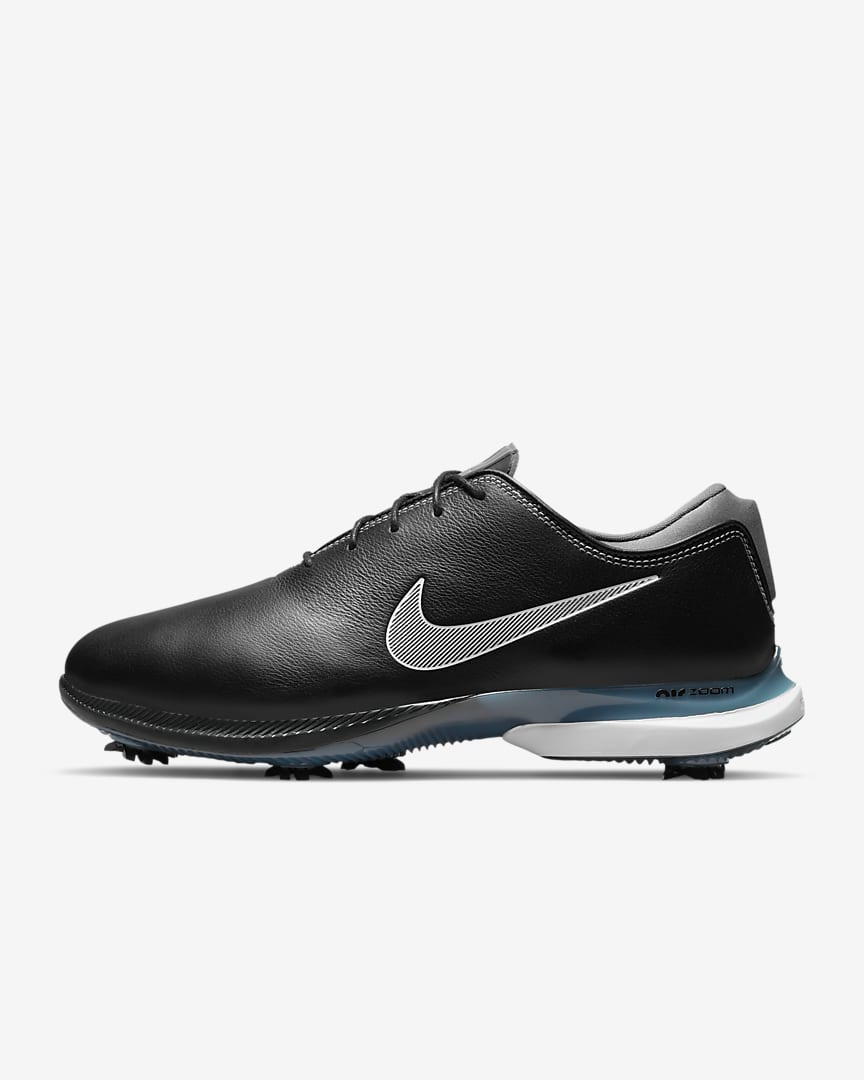 A classic shoe, the Nike Air Zoom Victory Tour 2 brings cutting- edge innovation to a classic silhouette, such as the Nike Air Zoom.
With a supple leather upper, this shoe features hidden performance details, including Zoom Air and excellent traction so you can be the best version of yourself from that first tee shot all the way to that pressure putt on the 18th green.
Features include:
Full-grain leather has a soft feel and a sophisticated look
Internal strap stretches over your foot and locks you in
Zoom Air unit is sewn directly to the upper instead fo being set into foam, helping increase stability and energy return
A full-length plate beneath Air unit helps increase stability
A hybrid outsole design combines integrated Traction with 7 removable spikes for optimum gripping power
Molded heel cup helps support your foot
Internal foam pods cushion your heels
2 year waterproof warranty
Stephen Curry is known for his ability to shoot the ball with accuracy and consistency. He also has a unique style of play that he brings to the court.
These signature golf shoes are designed by Under Armour to help him perform at his best and your best on the golf course.
Features include:
Flexible, sock-like fit
Keeps feet cool and dry
Molded EVA foot bed for comfort
UA HOVR™ Placement Supports natural motion of the foot and provides energy return to help reduce impact
Compression Mesh Energy Web Contain & Molds UA HOVR Foam to give back the energy put into the feet
Rotational Resistance 2.0 outsole for lightweight lockdown
Spikeless outsole for flexibility and traction
Skechers is a global footwear company that designs, manufactures and markets athletic-inspired products.
If you're looking for a practical, stylish and casual pair of waterproof golf shoes then look no further than the GO GOLF Elite V.4 from Skechers.
Available in 4 different colours
Black/White
White/Navy
Grey/Lime
White/Navy
Features include:
Featuring waterproof leather uppers, spikeless traction outsole and a cushioned midsole and insole this is a great pair of golf shoes for all conditions.
• Lightweight
• Breathable
• Comfortable
• Durable
• Easy to clean
• Slip-resistant
• Waterproof
• Soft and flexible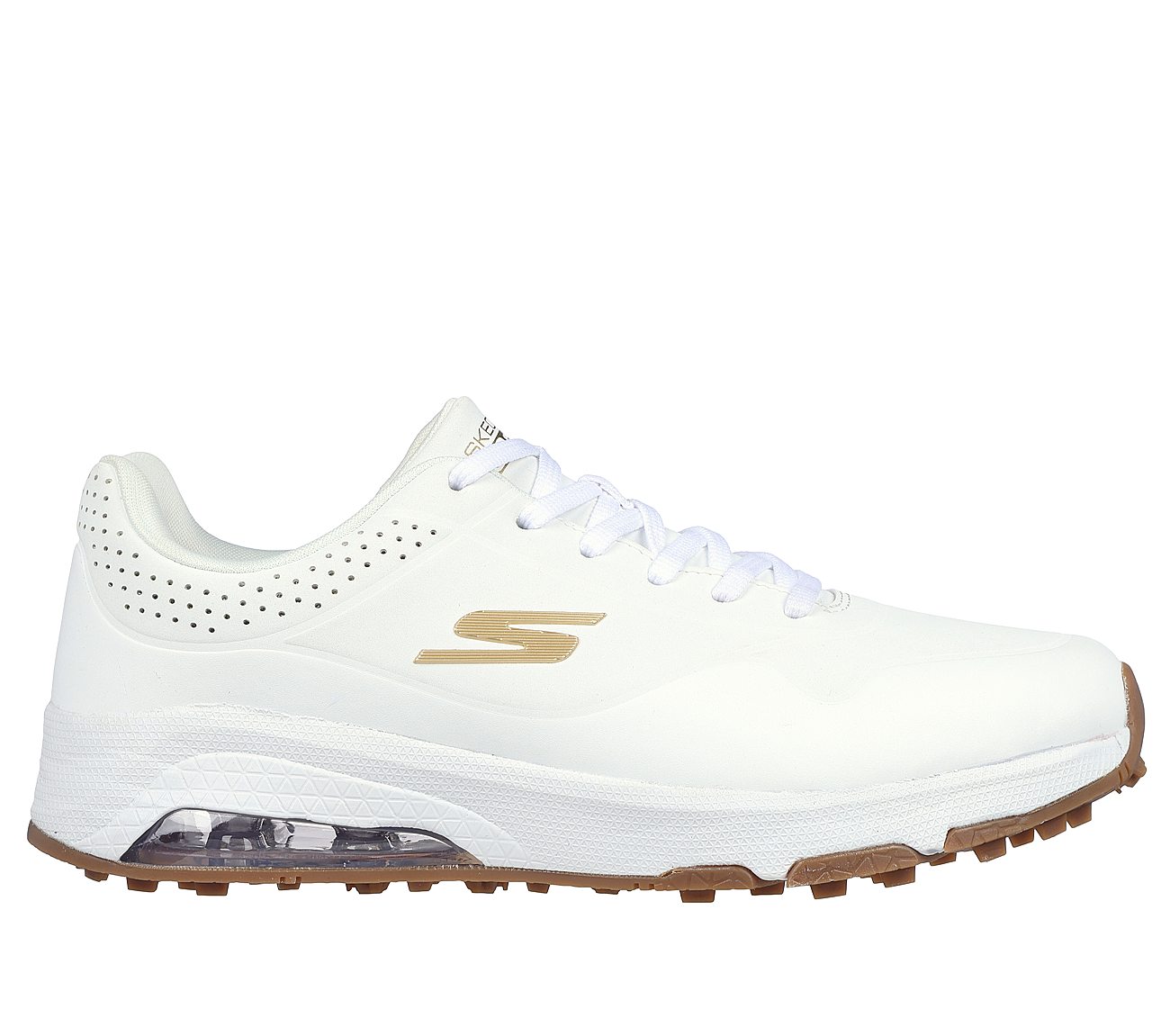 The Skecher's GoGolf Skech-Air is designed for all levels of players from beginners looking for an affordable entry into the world of golf footwear, through to more experienced players who want to improve their performance on the course.
The Skecher's GoGolfer has been specifically developed to provide maximum support and stability while maintaining flexibility and breathability.
It also offers excellent grip thanks to its spikeless design which provides superior traction without compromising feel or control.
Features include:
Skechers' proprietary technology provides maximum cushioning and durability
Comfortable and flexible
Breathable and moisture wicking
Slip-resistant
Easy to clean
Padding around collar and tongue
Subtle design at collar and sole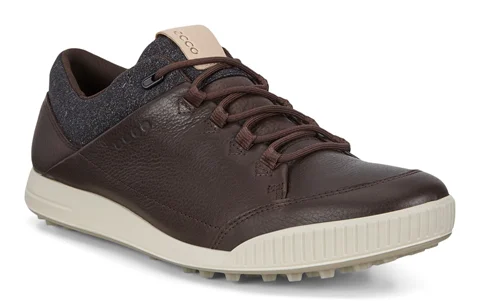 An iconic, trendy look for both on and off the course that features either slight or stark colour contrasts, elevating the style of the ECCO M GOLF STREET RETRO to noticeable levels.
HYDROMAX® treated leather allows you to play rain or shine, while the ultra-lightweight sole and textile collar offer all-day wearability.
These iconic "street" golf shoes look great on and off the course; even my 70+ year old father used to wear these on the course and inside the clubhouse.
Whilst the traditionalist won't favour this style of shoe, the Ecco M Golf Street Retro is treated to keep your feet dry; even in the Scottish climate.
They are lightweight, durable and will last you for years.
Features include:
Premium full-grain leather upper
ECCO HYDROMAX® treatment keeps your feet dry
Long-lasting, lightweight cushioned comfort
Removable comfort-fibre inlay sole for long term cushioning and enhanced breathabilty
Textile collar provides additional cushioning
Contours to the shape of your foot for a personalised fit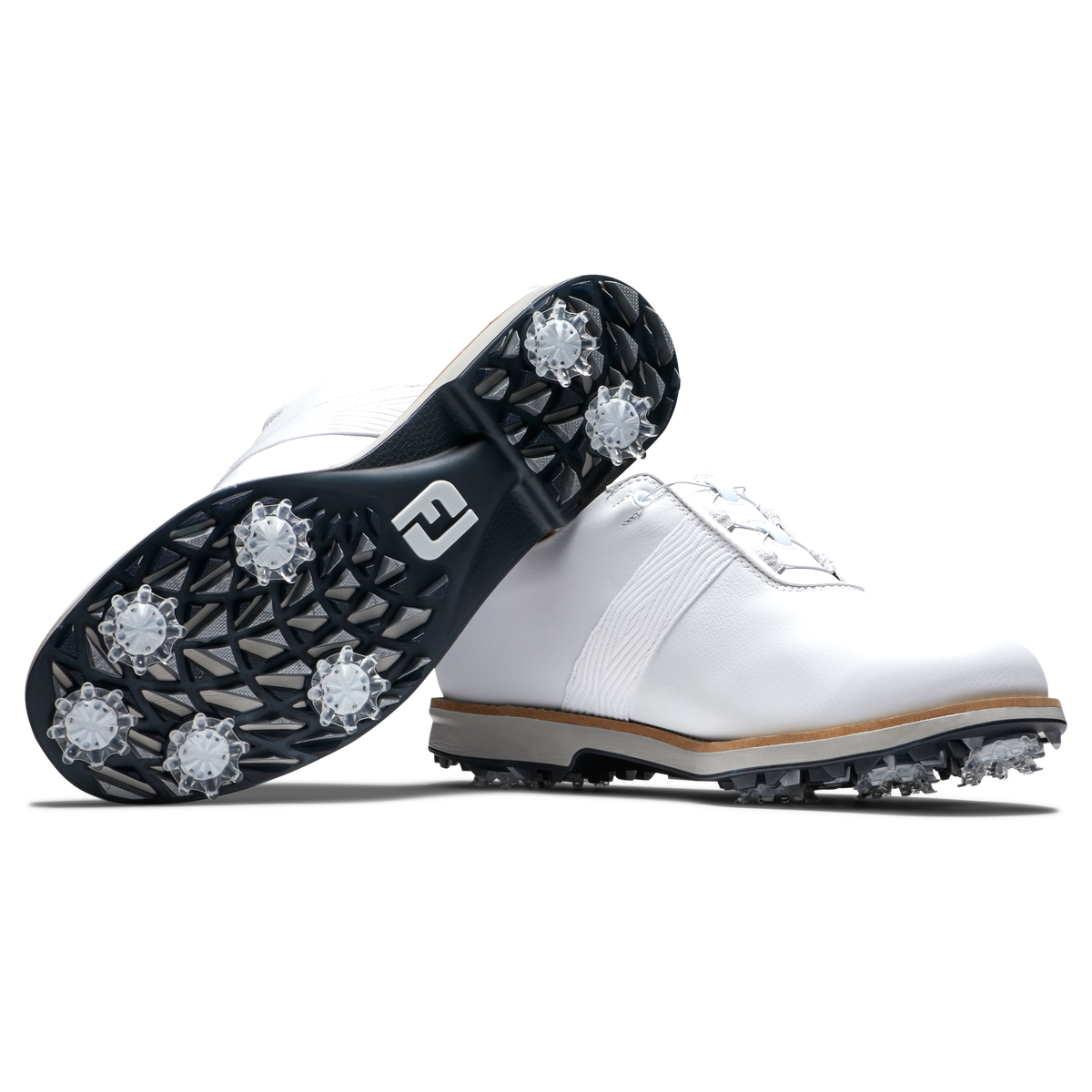 These shoes have style, they have class but most of all, they are Footjoys.
This is an iconic, classic pair of golf shoes from one of the leading golf brands.
Whilst on the expensive side, your feet are the foundations of your golf swing so don't cut covers and make the investment.
Features include:
Soft, supple leather uppers and premium lining.
Lightweight, breathable mesh upper.
Multi-directional traction elements for superior traction on all surfaces.
Soft, cushioned footbed for long-lasting comfort.
Customised fit for ultimate performance.
Waterproof construction for worry free play.
1-year waterproof warranty.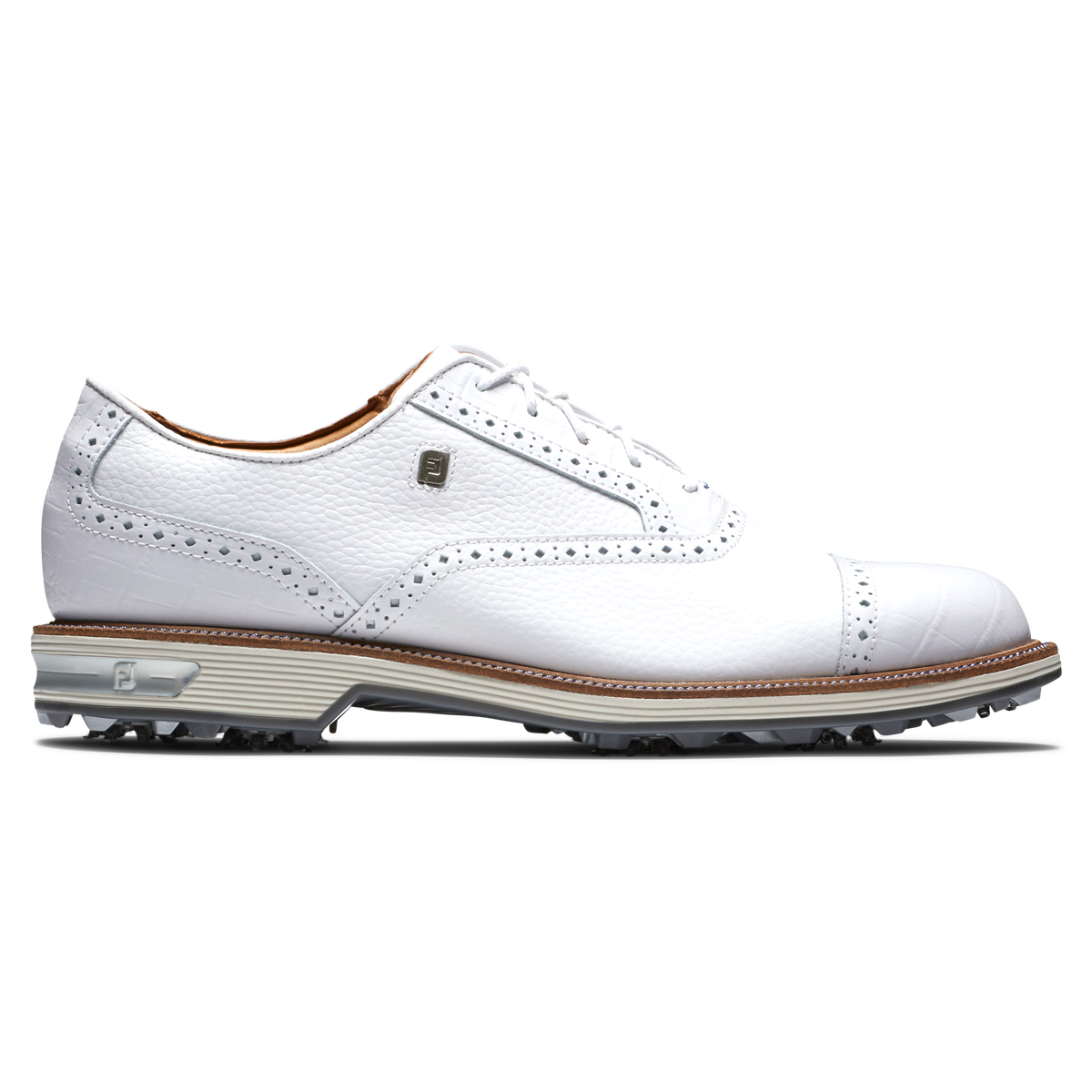 Footjoy shoes were a sign of a great player when I was a teenager.
The Footjoy Premiere Series shoes are the classics re-invented for the 21st century and comes with 3 color options.
Features include:
Superior traction and stability in dry and wet weather conditions.
Softer TPU for better traction on hard surfaces.
Support for your heels whilst swinging.
Cushioning designed to provide comfort and support for all day walking.
Waterproof protection for your shoes.
100% waterproof
1 year warranty waterproof protection.
These are the modern shoes that golfers such as the Korda sisters would wear.
The ECCO GOLF TRAY is a hybrid that is both stylish and performance oriented.
This shoe is made with durable leathers treated with water-repellant HYDROMAX® Technology and features a one-of-a-kind E-DTS TWIST outsole that has multi-directional traction.
You'll want to wear these both on and off the course because of their smart silhouette.
Features include:
Water-resistant upper material keeps your feet dry.
Multi-directional traction pattern allows for better grip in wet conditions.
Innovative ECCO FLUIDFORM™ Direct Comfort Technology provides cushioning and flexibility.
Removably washable and open-cell Ortholite® insole for maximum comfort and breathability.
2 colours : white and grey/pink
What to look for in buying golf shoes
You should look for the following when buying golf shoes
Are they waterproof shoes ?
Do they accommodate wide feet?
Spikeless golf shoes or spiked shoes
Lightweight golf shoes ?
Look for angle support
How do the shoes grip on different surfaces?
Can the shoes cope with dry conditions as well as wet conditions
Traditional style or modern, training shoe design
Check the sizing guide on website
Returns policy
Or else discover your perfect shoes at the top 10 best golf shoe manufacturers :
1) Nike Golf
Nike is one of the most popular names in sports footwear today.
Their products include running shoes, tennis shoes, basketball sneakers, football cleats, baseball spikes, soccer boots, cross-training shoes, hiking sandals, casual slip-ons, dress shoes, work boots, and more.
2) Adidas Golf
Adidas is another big name in sportswear with many different lines including training gear, apparel, accessories, and equipment.
Their main focus is to provide high quality performance at an affordable price.
They also offer some very stylish looking shoes like the adiZero 2.0.
3) Saucony Golf
Saucony is known for making excellent cycling shoes but now they make some really nice golf shoes too.
These shoes come in various styles from traditional leather loafers to modern mesh designs.
4) Mizuno Golf
Mizuno makes some pretty cool looking shoes especially if you're into minimalist style.
There are lots of colours available ranging from black, white, red, blue, green, yellow, orange, purple, pink, brown, grey, tan, etc.
You'll definitely stand out in these shoes because of all those bright colours.
5) Under Armour Golf
Under Armour is probably the biggest brand in fitness clothing and footwear.
They produce everything from workout clothes to running shoes to yoga pants.
But they do make some awesome golf shoes too.
6) Skechers Golf
Skechers is a global leader in active lifestyle footwear.
They design shoes specifically for people who want comfort without sacrificing support or durability.
So whether you play golf, run marathons, hike mountains, go rock climbing, or just walk everyday, there's something here for everyone.
7) Ecco Golf
Ecco Golf is a relatively new player on the market but they have already made quite a splash. They specialize in lightweight, breathable, comfortable, supportive, and durable golf shoes. All of their shoes can be customized to fit your foot perfectly. And unlike other companies, they actually test each shoe before putting them on sale.
9) Asics Golf
Asics has been around since the 1960s and still remains one of the most popular brands today. The company offers a wide variety of products such as tennis shoes, running shoes, basketball shoes, cross trainers, hiking boots, sandals, flip flops, dress shoes, casual wear, workwear, and more. One of their best selling items is the ASICS Gel Lyte III.
10) FootJoy
Footjoy has been the number 1 golf shoe and golf glove brand in golf for probably the last 40 years.
They achieve such dominance from the investment in sponsoring and investment in the world's top golfers.