A golf shirt is a most important part of your wardrobe, and it should be tailored to fit you perfectly.
Whether you are looking for something that will look great and keep you comfortable on or off the course, I've picked some of my favourite golf shirts along with a few buying tips.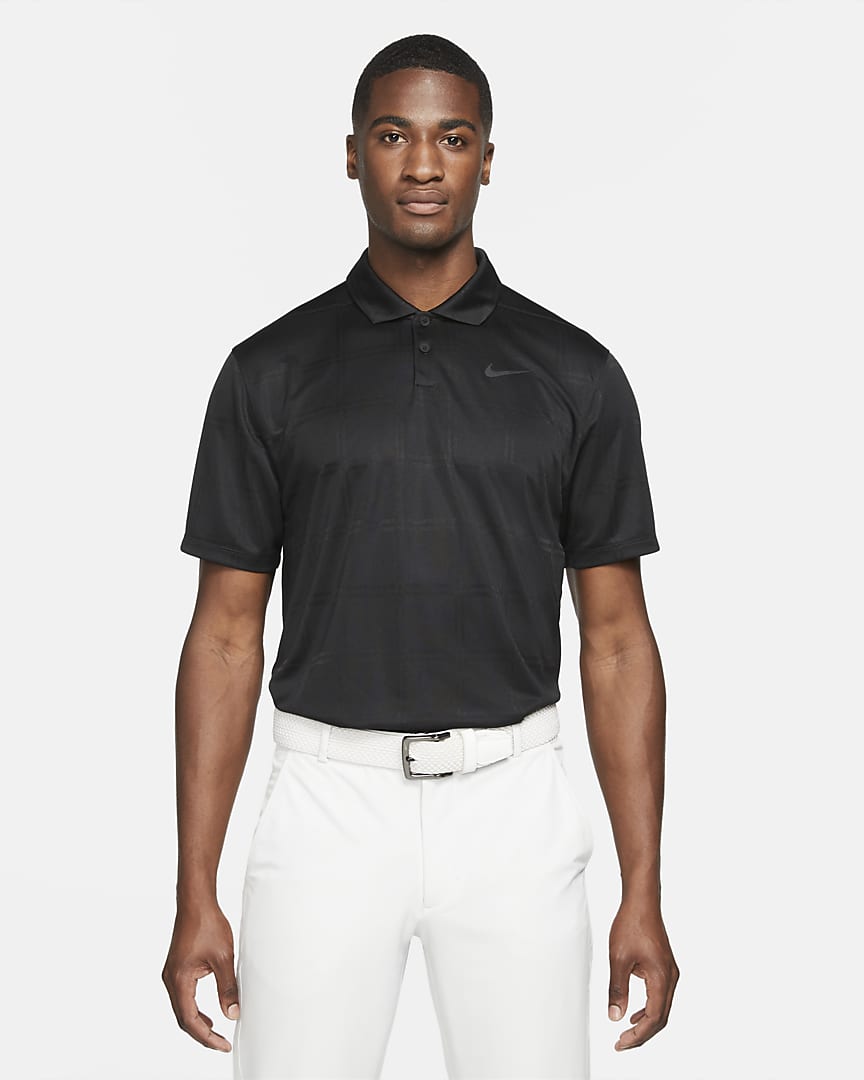 A classic performance polo shirt is given a modern twist in the Nike Dri FIT Vapor Polo.
The check design is woven into the fabric, making it less likely to affect breathability or stretch.
The lightweight knit fabric is extremely soft, so it feels great against your skin.
The mesh insert at the back allows air flow while providing added support for the shoulder seam.
The key thing here is that it doesn't feel too tight around the neck line, so you don't feel restricted during your golf swing.
Features include:
Stay cool during the summer months with the lightweight breathability of the Hem Polo Drapes.
Soft, quick drying cotton twill keeps you comfortable throughout the season.
Easy care, machine washable fabric.
Features a fold-over collar for added comfort.
2 button placket.
Style: DA2969-631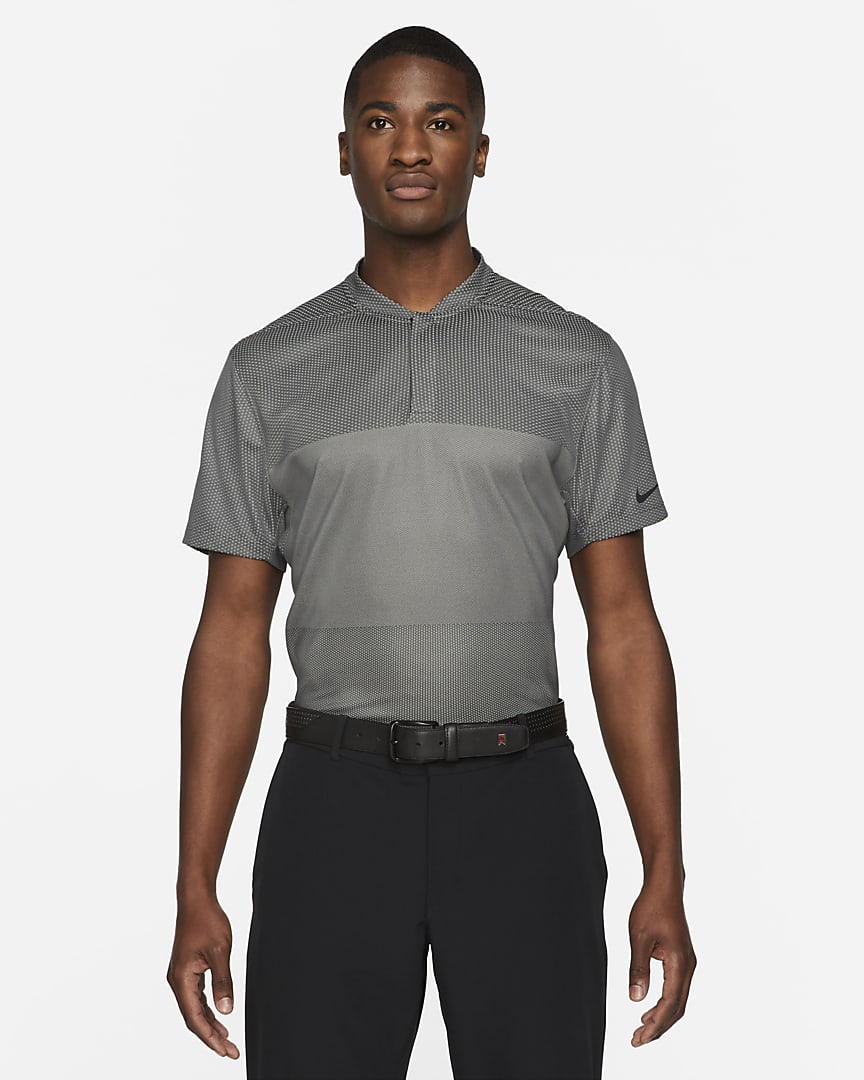 Tiger Woods is a legendary golfer who has won 15 major championships. He has been ranked number 1 in the world by many golf magazines. His signature polo shirt is engineered to the exact specifications of the legend himself.
Features include:
• Sweat wicking fabric keeps you cool and dry
• Hidden back label
• Low profile
• Rolled forward shoulder seams
• Perforated back of collar
• Easy care
• Machine wash cold, tumble dry low
A comfortable shirt, the Under Armour Playoff Polo Golf Shirt is designed to move with you, not against.
It does this by being extra stretchy, so you don't ever feel restricted on the golf course.
It also features moisture-wicking technology to help keep you dry and comfortable.
Features include:
Lightweight, quick-drying, and breathable
Comfortable and flattering fit
Made of soft, anti-pilling, anti-microbial material
Great for everyday use
UPF 30 protection against the sun's UV rays
Heat-seal logos for added style
Loose fit for comfort
Wide choice of colours and sizes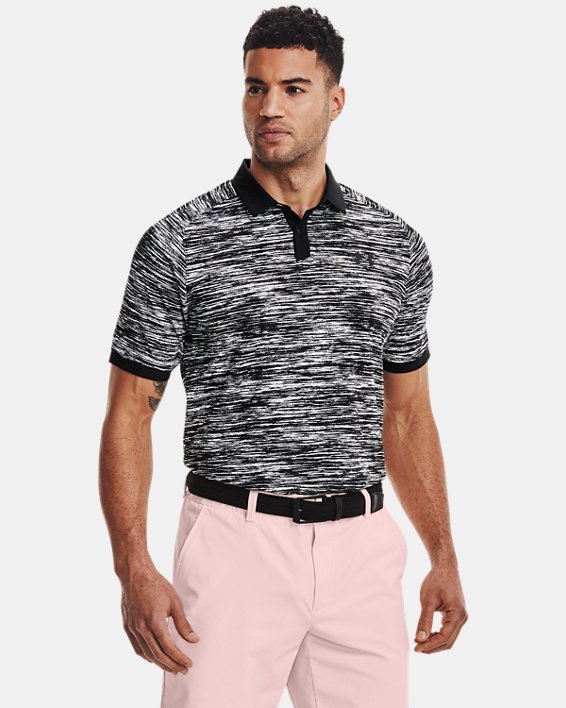 The immensely popular Iso-chill polo shirt flattens out the fibers and adds some science to create a "game-changing fabric" that quickly pulls heat away so you can be cool, calm and crushing at your max capacity.
Features include:
• Cool and comfortable
• Moisture wicking
• Breathable
• Comfortable
• Great for active lifestyles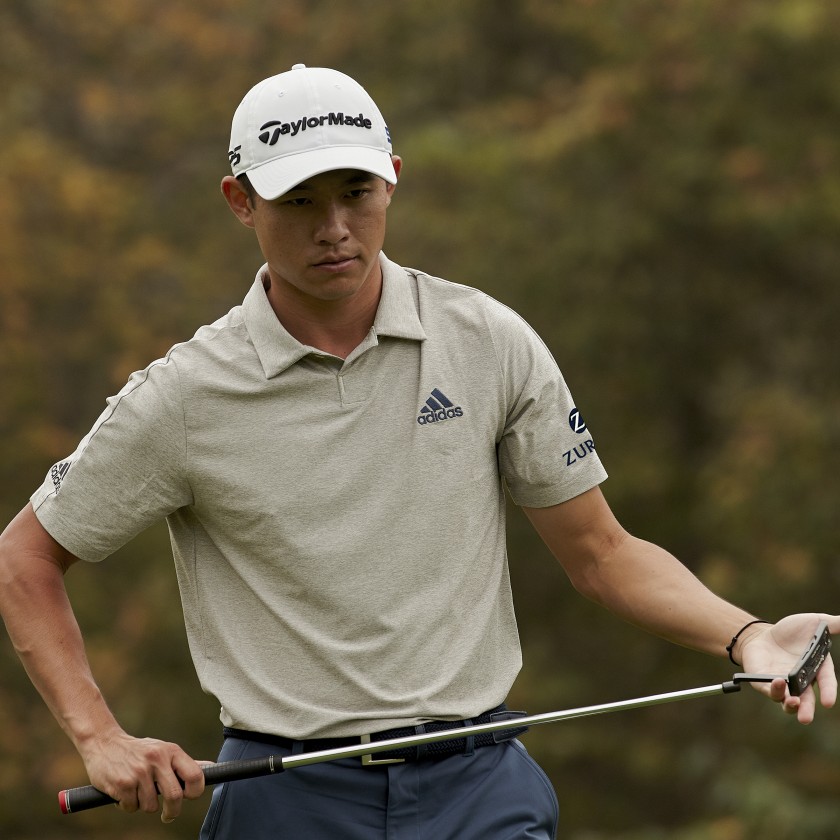 Make your transition in style from the course into the clubhouse in this adidas golf polo shirt.
Breathable fabric keeps you feeling refreshed through 18 holes.
Four way stretch allows you to swing without distraction.
Rich, textured material gives a soft feel and elevates the look on and off the links.
Features include:
• Regular fit
• Flexible polo collar
• High quality materials
• Cotton-like feel
• Great for active lifestyle
• UV 50+ factor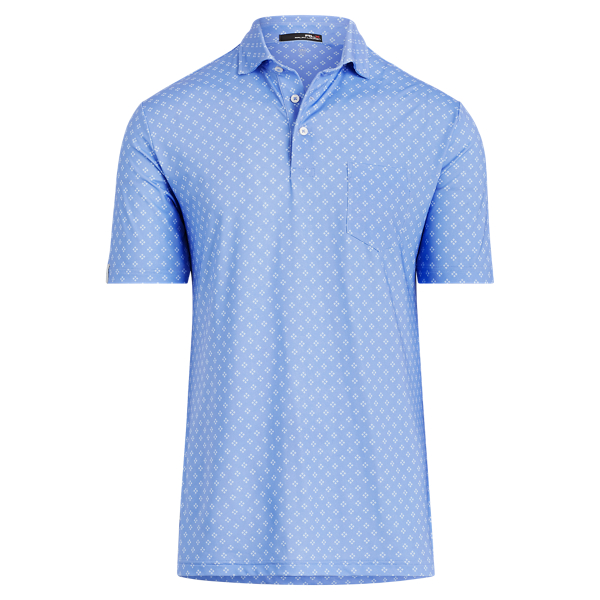 Ralph Lauren RLX is a performance focused golf brand within Ralph Lauren.
It blends serious golf capabilities with Ralph Lauren's signature style.
This Polo Shirt is a great example of this balance.
It boasts a roomy fit and stretchy jersey fabric, making it comfortable and providing all the necessary mobility when playing.
The fabric also wick sweat and offers UPF50 protection against the sun.
Features include:
• Roomier silhouette
• Lower armholes
• Fuller sleeve
• Spread collar
• Short sleeves
• Woven "RLX"-loop at the right cuff
• Polyester, elastan
• UV protection
A polo designed for golfers who want freedom of movement while keeping themselves cool.
Made from breathable fabric that allows a greater range in movement while playing.
Stylishly printed short sleeves help you stay on top of the game.
Features include:
Patterned front
Solid rear
Available in red, navy and blue
Sizes : S, M, L, XL, XXL
Wash at 30 degrees
Wash with similar colours
8. Castore NAVY PERFORMANCE GOLF LONG SLEEVE POLO
A long-sleeved polo shirt built from performance fabric, that allows a greater range of movement when playing.
With breathable mesh panelling on the reverse for gentle ventilation that keeps you cool during play.
A shirt that helps you stay on top of your game.
Features include:
Vertical logo on the back
Buttonless
Round neck with over hanging collar
Available in navy and white
Sizes : S, M, L, XL, XXL
Wash at 30 degrees
Wash with similar colours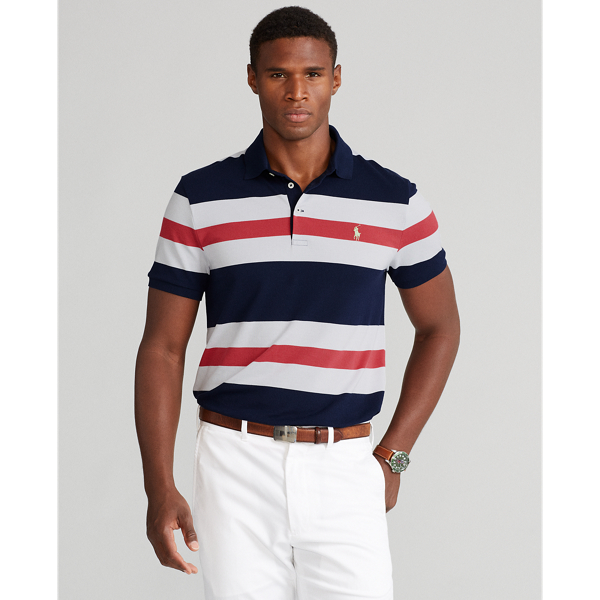 A clean classic shirt, the polo is made of 100% cotton and looks like your regular shirt.
But it's also more than this.
You will get great range of motion, light weight and breathable feel and sweat wicking properties.
It is designed for long days on the golf course.
Features include:
Relaxed fit.
Short sleeves.
Long length.
Regular fit.
Soft feel
Style Number: 440611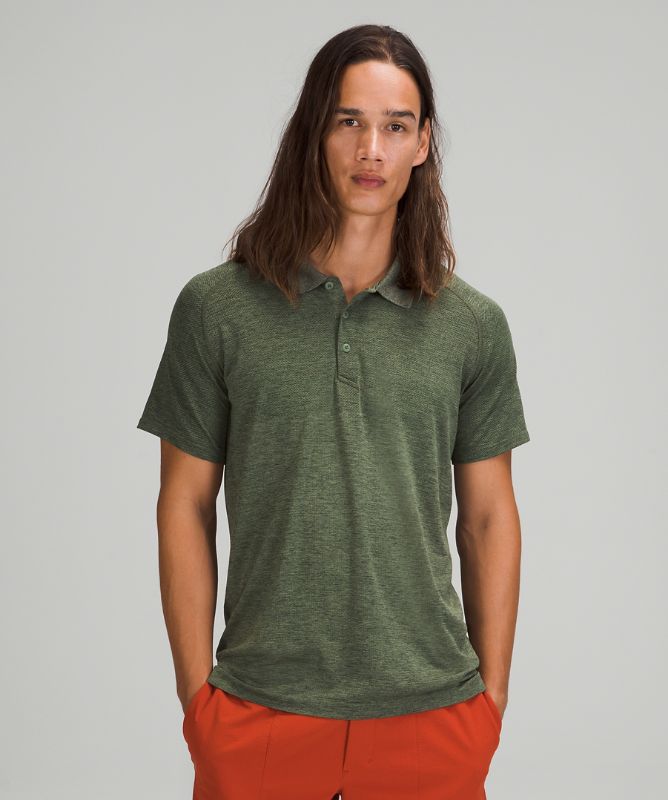 Lululemon designs and manufactures athletic apparel for men, women and children. Their mission is to inspire people to move freely through life. They believe that freedom comes from the body moving naturally and easily.
This polo shirt can be worn for golf as it's been designed for performance and to combat sweat.
Features include:
• More wearing, less washing
• A streamlined fit that skimmers your body
• Minimal seams to reduce friction
• Added elastane improves elasticity and shape retention
• Mesh construction for breathability
• Made with respect for the environment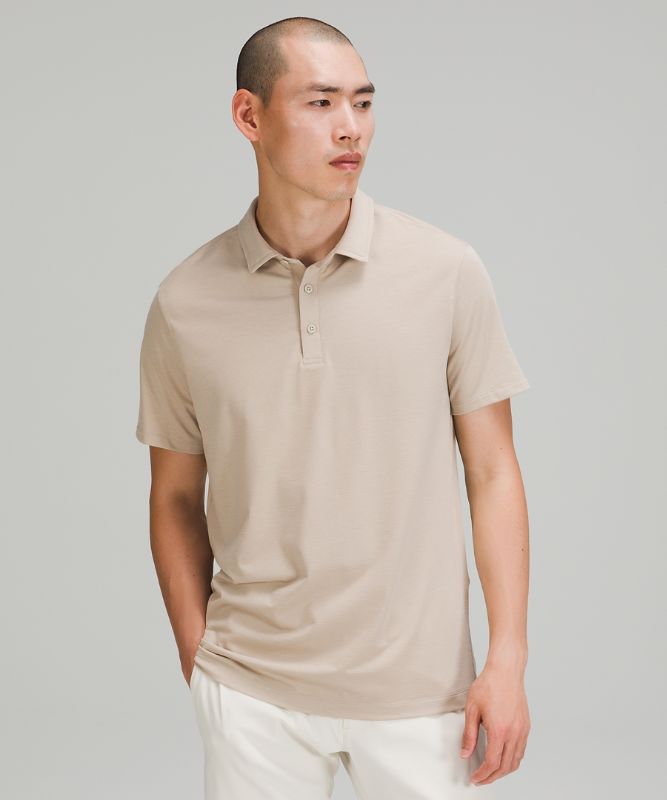 This golf polo, powered by our anti-stink technology, keeps you cool and comfortable on the course or wherever your day takes you.
A golf polo shirt with anti-stink technology; yes you !
Aimed at the under 40 who wants a polo shirt they can wear on and off the course; you could even put a blazer over this for a dress down work Friday.
Features include:
• Wear more, wash less.
• A streamlined fit that skimmers your body.
• Sweat-wicking
• Quick-drying
• Added Lycra® fibres for stretch and shape retention
• Lululemon respects the environment in their design and production.
• Available in 11 colours
What to look for when buying golf shirts
Here are some other factors to think about when choosing a golf shirt:
Technical Fabrics
Choose cotton over polyester.
Polyester feels stiffer and dries faster, but it wears longer.
Look for quick-dry technology.
Material
Look for lightweight material.
Check to see if there is moisture-wicking material.
Make sure the shirt offers plenty of breathability.
Many manufacturers use mesh panels throughout their designs to let air flow through the garment.
However, these panels aren't always effective. Instead, opt for a woven design that allows airflow naturally.
Consider brands that manufacturer using recyclable materials
Style
When buying a golf shirt, remember that it isn't only meant to protect you against the elements; it's supposed to complement your outfit.
Classic styles can last you for years and be worn on and off the course.
Stitching
You want to look for high quality stitching as opposed
Sizing
The website you buy from should have a good size guide to help you choose.
Brands
Don't just consider the obvious golf apparel brands; look out with the golf market for brands such as Castore and Lululemon for some modern, stylish and performance polos.