If you're looking to buy a new golf stand bag, then it can be difficult to know where to start online.
Luckily I have put together this guide which will help you make sense of all those options and give you some tips about what features to look out for when buying a golf bag.
I've loved the Ping brand since I was a teenager; starting with a Ping O-blade putter and currently having G-75 irons.
There are 11 pockets, a new back pucker for quick single strap conversion, added storage, additional magnetic pockets, and an outerwear pocket with full length zipper.
Golf clubs are often protected by a cover. These covers protect them from weather and other elements.
They also protect them from being damaged.
It's really easy to switch from a backpack method of carry this bag to a single strap carry and the bag can easily be attached to a golf cart.
There's a rain hood you can attached to keep your sticks dry when it rains.
Features include:
Lightweight, just 5.5 lbs
Easy to convert to a single strap
Great for storing keys, coins, etc.
Can be worn as a crossbody or shoulder bag
Made of durable polyester
Includes a removable ID card holder
Features a magnetic rangefinder pocket
Has large storage capacity for sweaters and rainwear
Has a top-access magnetic slip pocket
This Callaway golf bag is billed as having the most comfortable strap in golf.
Nothing worse than a strap digging into shoulders when you're heading down the last 6 holes needing par to break your handicap.
Features include :
Weighs just 3 lbs (1.3 kg)
Ripstop fabric combines ultra- light weight and great durability
7 pockets, includes a tee pocket
Padded Comfort Straps provide increased carrying comfort
Updated Self Balancing X-Act Fit Straps
Durable and Lightweight Carbon Fiber Legs
Large Zippers for Increased Durability
Individual Cell Phone Sleeve
Ball pocket can be personalised with own logo
Being so long out of the golf industry this is not a brand I'm too familiar with.
The bags look very plain but are light and easy to carry.
The Ultra-Light Golf Stand Bag is the ideal bag to take with you when you go golfing.
It weighs only 3.2 pounds and is easy to carry and move around.
It is engineered with high strength polyester and offers many exclusive features including the waterproof valuables compartment, customizable ball pocket, two-strap carry system and integrated SmartGrip handle.
Features include:
Weight: 3.2 lbs
4 way top for organization
Customizable ball pocket
Includes an umbrella holder, SmartGRIP Handle, double strap and rain Hood
Made of strong polyester
The Sun Mountain brand has been around for a long time and this bag certainly has all the bells and whistles.
And it's one of the heavier golf bags on this list.
There are 14 individual club dividers run along the full length of the bag to protect the clubs from migrating.
Nine pockets include a full length clothing pocket, hydration pocket, multiple accessory pockets and water resistant valuables pocket.
The bag is golf cart friendly features include a cart pass-through, leg lock system and cart friendly bottom.
There is a cart strap run behind the clothing pocket so that the bag can be secured on a cart without hindering the pocket access. Matching rain hood included.
Features include:
Weighs 5.2 lbs
14 individual club dividers
8 different colours
Dual fit padded strap
9 pockets
Rain hood
5. Founders Club 7″ Mini Light Weight Golf Stand Bag
With Founder Club's anti club shaft lock technology, you can rest assured that this golf bag will be quiet and comfortable during your round.
This bag comes with plenty of space for your clubs and accessories. It is durable and lightweight.
Ideally suited for ladies, juniors or men who carry a 3/4 set or prefer a light, small stand bag.
Features include:
10 full length dividers
6 pockets
Full length clothing pocket
Waterproof pocket with sealed zip for your valuables
Padded dual strap
Spring loaded stand
Bag molded to fit your hip
Handles at top and bottom for easy lifting
Rain hood
Umbrella sleeve
Towel club
Glove holder
Shaft lock so your clubs don't rattle as you walk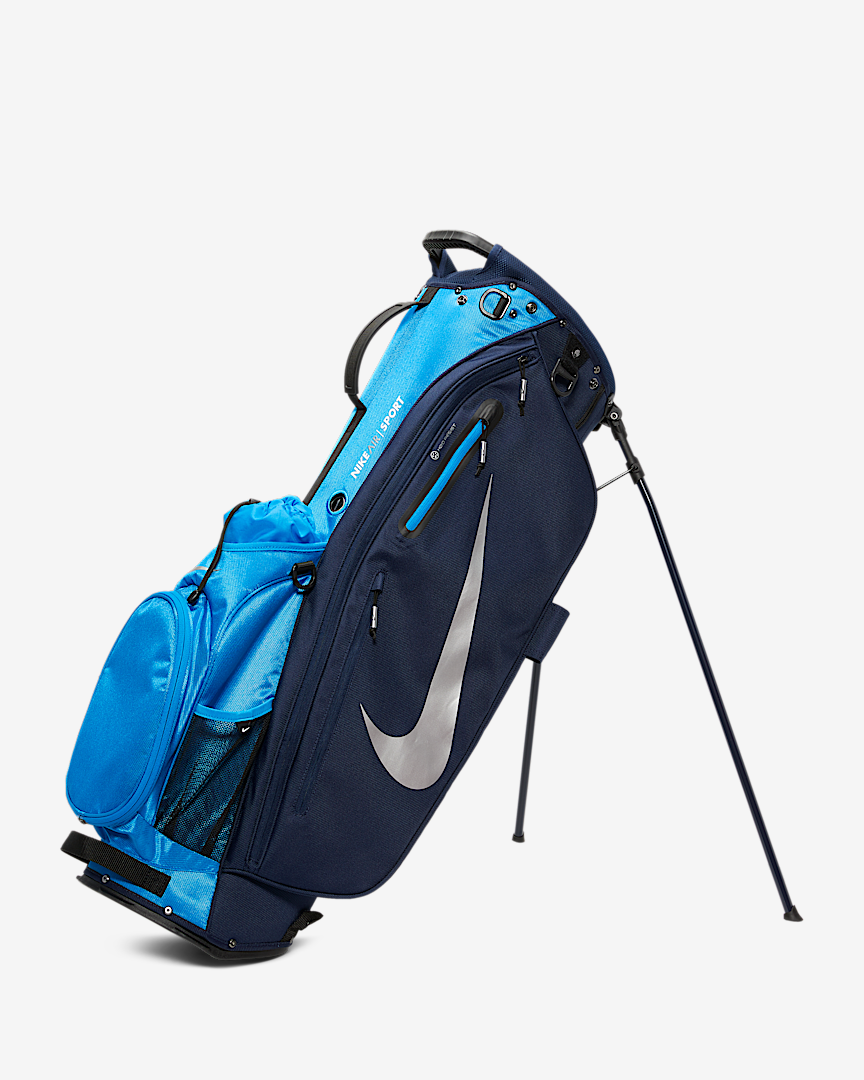 This Nike Air Sports golf bag has anatomically correct dual strap that provides a balanced feel when your carrying your stick.
There's water-resistant, fleece lined pocket to protects your valuables and a rain hood helps deflect the elements
The main downsides to this golf bag is it limited space for waterproofs and other stuff you need to carry and it doesn't contain dividers for each club.
Features include:
Anatomically Correct Dual Strap Design
5 dividers
Water-resistant, fleece lined pocket
Pop-out stand
Rain cover
Handles at the top and bottom of the bag
100% polyester
Spot clean
Light weight
Great pockets
Great value for money
7. TaylorMade FlexTech Custom Lite Stand Bag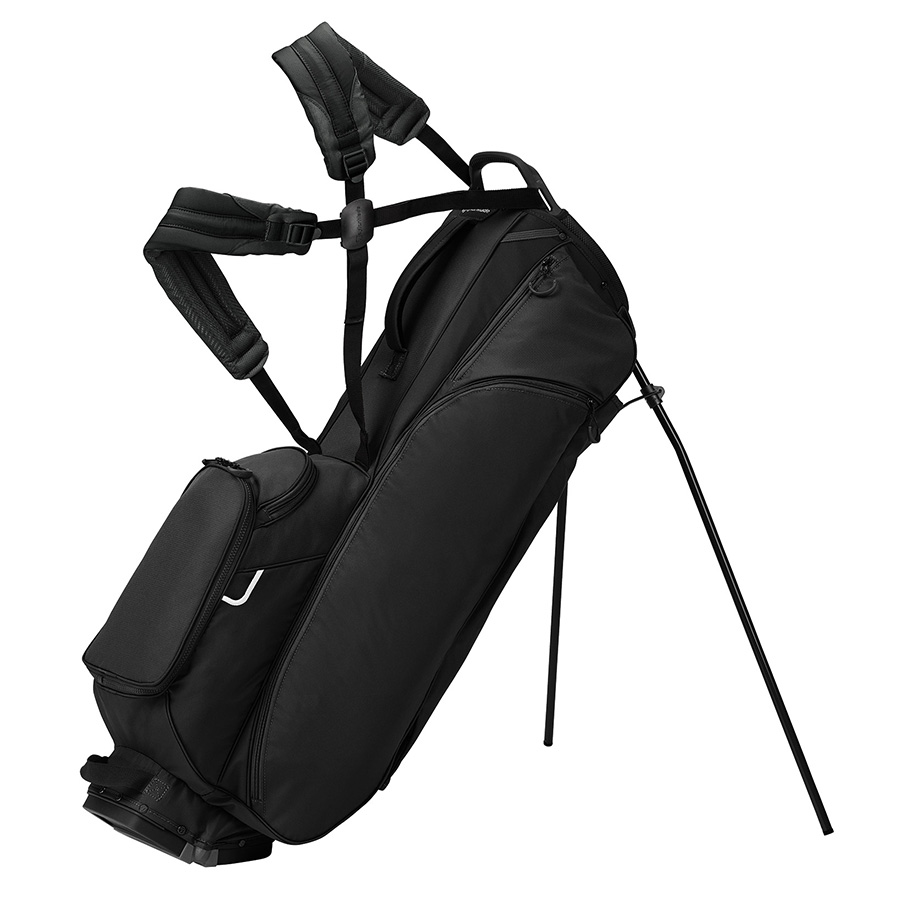 The new FlexTech Stand Bag from TaylorMade Golf puts an emphasis of comfort and convenience, so that you can focus on your gaming.
It weighs just 4 pounds, features a 4-way opening with crush-resistant construction, and our proprietary FlexTech Stand System for seamless functionality that allows for easy setup and takedown.
A new design of this storage pocket allows easy access while walking, when you are carrying the bag, or when it is standing or sitting on a cart.
Features include:
Weighs 4 lbs
4 way top with crush resistant framework
Self adjusting straps
Easy access to storage pockets whilst walking
Comfortable hip pad
Use single or dual strap
FlexTech stand system
Golf Stand Bag Buying Tips
Here's a few things to bear in mind when choosing a golf stand bag.
Shoulder Strap – single or double strap ?
Most of the bags in this guide allow you to switch between a single strap and double strap for a comfortable carry during your golf game.
Storage
Ideally you need a full-length apparel pocket to store waterproofs or a sweater and you'll need zippered pockets for your wallet, phone, watch and other valuables.
Spacious pockets with ample storage ensure you are not walking with a big bulge bouncing into your hip and waist.
Dividers
Golf stand bags either come fitted with a 14-way divider for each club or a 4 or 5 way divider when you can group together woods, long irons, mid irons and short irons.
I prefer the latter option but some golfers want the added protection for very club.
More dividers equal more weight and less space; that's the compromise you'll make.
Comfort
Look for padded shoulder straps and a system what spreads the weight across your body.
Most modern bags include hip padding to prevent club shafts stabbing into your hip as you walk.
Weight
With plenty of storage space you end up lugging a lot of weight around the course.
Personally I use a pencil type bag and carry very little.
The weight of your golf bag can bring you down; especially if you play 36 holes
Stand Leg Stability
The frames of the stand bag legs are an important part of what makes a good stand bag.
Once your bag and pockets are fully packed, the stand should be sturdy and durable.
The stand should be sturdy enough to support a full set of clubs with all the pockets full.
The legs should easily open to a proper standing position, close quickly and remain closed while on the back.